About gabbybaby®

When you've got a new baby in your arms, everyone becomes an expert. Advice will come from relatives and strangers alike. Unbelievably private questions will be asked; comments will be made, and information (you know, the "TMI" kind) will be provided against your will. This is one of those things that comes with parenthood that the books don't warn you about!
Well, not anymore! Gabby Brennan founded gabbybaby as a fun (yet somewhat serious) way to help new parents defend themselves against unsolicited parenting advice and unwanted inquiries.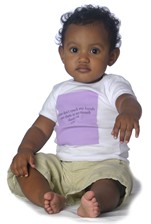 The first gabbybaby products, baby and children's T-shirts and onesies, display humorous, direct, and loving messages that remind the in-law/aunt/uncle/friend of a friend/neighbor/stranger/dry cleaner/colleague/colleague of husband or wife/former high school classmate/postman that Mom and Dad are doing a great job and will continue to do so, with or without their unsolicited advice.
The best-selling, stylish, and humorous gabbybaby apparel has been sold to parents in more than six countries and is now carried in over 70 stores and online. Most recently featured on The Rachael Ray Show, E! News, and in Parents and Baby magazines, gabbybaby has also received press from NBC 30 in Connecticut, Boston Magazine, Southern New England Baby magazine, and LOU LOU Magazine, amongst others.
gabbybaby apparel has become a celebrity favorite, appearing on E! News' "What Celebrity Babies are Wearing" and owned by celebrity parents such as Brooke Shields, Angela Bassett, Britney Spears, Jennifer Garner, and Matt Lauer.
Online, gabbybaby.com has become a popular destination for hundreds of visitors per month looking to share their own stories.

While gabbybaby stands up for new parents and all they
must deal with, so does it realize that, as parents, we are truly blessed. In honor of moms, dads, and babies everywhere, a portion of the proceeds from gabbybaby apparel will go to various charities that support new parents in need.
To view the entire line of gabbybaby apparel, visit www.gabbybaby.com. Please contact us for samples.